Contact & directions
Department of Molecular Oncology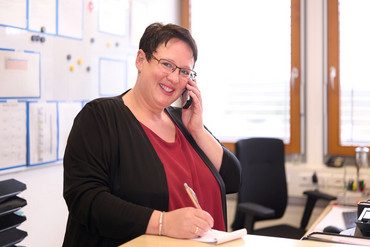 Department address:
University Medical Center Göttingen
Department of Molecular Oncology
Justus-von-Liebig-Weg 11
37077 Göttingen
Section for Cellular Oncology:
Grisebachstrasse 8,
37077 Göttingen
Phone: +49 (0)551 3960763
Mail: heike.voigt(at)med.uni-goettingen.de
Directions by car and bus
By car you reach Göttingen on the A7, exit Göttingen Nord.
Then direction Göttingen-Weende / Braunlage until the end of the motorway feeder road / crossing B27 - Hannoversche Straße.
Straight ahead on the B 27 towards Braunlage, after about 300 metres turn right - towards the clinic on the Robert-Koch-Straße.

The bus linies
21 (Direction Nikolausberg),
23 (Direction Uni Nord),
41 (Direction Weende-Ost),
44 (Direction Papenberg) and
170 (Direction Duderstadt)
depart from the railway station/ZOB. Stop "Klinikum" below the main entrance. The journey time is about 10-18 minutes. You can find a suitable bus connection via the connection search.